This post may contain affiliate links, which means that I will receive a small commission at no extra cost to you if you decide to make a purchase. Thank you for keeping this little blog up and running!
Daisies and bumblebees
Turning 70 is something to be celebrated! I believe that birthdays are a complete gift and that we should embrace each one.
This time the birthday girl was my beautiful momma. She goes by "GB," which is short for "Grandma Betty."
My sister and I were delighted to host a small gathering with some of her closest friends.
You may be figuring out that the first step for me with any event is to find inspiration pieces to set the mood.
Because her first initial is a "B," GB has a little soft spot for bumblebees. And with an April birthday, her birth flower is the daisy, which she also loves. So daisies and bumblebees it was!
Greeting Our Guests
It is always important to make your guests feel welcome. A great sandwich board sign greeted them at the front door. As they entered, we asked them to write a little note to the birthday girl on something special and simple that I put together.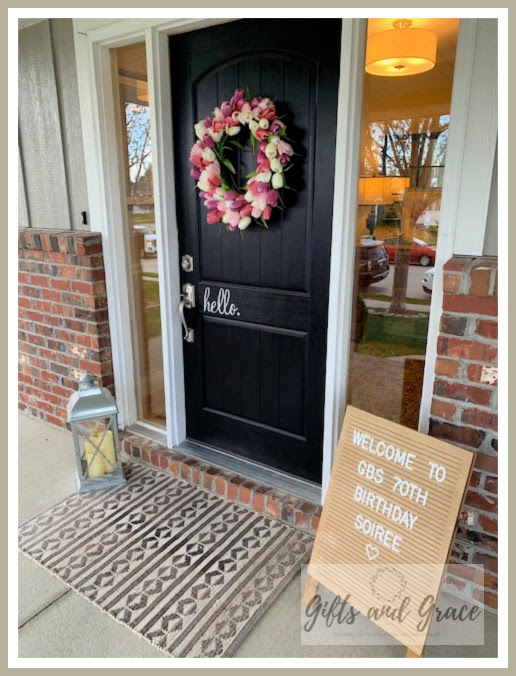 Our local thrift shop is a treasure trove for old frames. Don't look at what is inside them. Just look for quality frames in a good size. You will be discarding the inside anyway for this small project.
The first step is simply to remove the back and the glass from the frame. If the back is nice and smooth, you can use it for the next step. If not, cut a thick piece of poster board to fit inside your frame.
You will then cut a piece of your favorite wrapping paper the same size as your frame back or poster board and glue it onto your blank surface using a glue stick so that there are no bumps in the surface once it has dried.
When choosing wrapping paper, choose one that will be easy to write on.  A light color works great if you will be using a pen. A dark color would also be lovely if you use a gold or silver pen. Just make sure the surface isn't too slick, or the writing will smear.
Now just pop everything back together, omitting the glass until after the party! Once your guests are done signing inside the frame, the glass can be put back in, and your guest of honor can find a special place to hang the memory.
A Little Something To Eat
We decided to serve light appetizers: fruit skewers, veggie cups, sausage and cheese wonton cups, and black bean and corn salsa.
We purchased some items and made the rest. We provided mostly items that were individual servings.
We also had three choices for desserts with different flavors: coconut, lemon, and chocolate.
It looks like we have enough food for 100, but we tend to overdo it in our family!!
The Birthday Girl
We sprinkled a few photos of our special guest around the food display. She has been adorable since the beginning!
I just have to share one from the summer after she graduated from high school. 🙂 I just love this pic!!!
We had the most wonderful evening celebrating the birthday girl. Get to know her and find all kinds of fantastic recipes on GB's blog, GB's Kitchen. I promise you will love it! Please check it out and let me know what you think.
Happy Birthday, GB!
There is nothing better than celebrating the ones you love. Celebrate big! God bless.
P.S. I have included links to some products that you can purchase if you were inspired by this party!